London photographers Janette Beckman and David Corio first came across hip hop in 1982, whilst on assignment in New York for music publications including the NME, Melody Maker and The Face.
It gained them both access to a genre of music and cultural phenomenon, still in its infancy, which would go to to shape and dominate global music charts just a few decades later.
Their portraits of the fledgling artists who would become considered the Godfathers (and mothers) of rap music – Run DMC, Slick Rick, Salt 'n' Pepa, Whodini, Grandmaster Flash, LL Cool J and Queen Latifah – are being shown at a new exhibition in London.
Janette and David select three of their favourite images and talk us through the stories behind them.

Run-DMC and posse, hanging out in Hollis, Queens, 1984
I shot this for The Face, they gave me a phone number and it was Jam Master Jay's mum's house. I called up and they had no idea what The Face was. He said, 'OK, meet me at the Hollis subway station,' so I got on the train with my Hasselblad camera, no assistants.
I got off the train and Jay met me and we walked down the street and there were these guys just standing there. This must have been the third or four shot I took. They were like 'What do you want us to do?' I said, 'Just stand there'.
They looked so amazing, it was shocking to me because I had been used to going to shoot bands in the Bronx, which was pretty burnt down, or Harlem, and this was a really nice leafy street in a middle class neighbourhood. One of their mums was a teacher.
They changed everything. The clothes they wearing, they weren't dressed up in leather fringe outfits – the Adidas and Kangols, this is pretty much hip hop fashion at the peak of change.
They do look serious, I can't remember them giggling but they were serious about what they were doing. If you listen to lyrics to songs like It's Like That, they were political in a different way. In hip hop you have to have an attitude and they had it.
Janette Beckham

Biz Markie, London, 1988
You really can't go wrong with Biz Markie. They were on the Cold Chillin' tour, there was him, MC Shan, Marley Marl and Big Daddy Kane. The record company was just off that lane in Kensington and they said I had 20-30 minutes to photograph all of them and they wanted all of them individually.
I yanked out Biz first of all and he immediately started hamming it up. He climbed on top of a parked BMW and was bouncing on the bonnet, we didn't know whose car it was, I thought, 'We're gonna get arrested here'. But right away, he was sticking his tongue out, his face right in the camera , really mugging.
He had those rope chains on that he was sort of strangling himself with. They looked really bulky and I said , 'Can I feel, one of those?' He took the big one off, handed it to me and it was as light as a feather, it was hollow. It was sort of stage jewellery, not solid gold by any means.
He was just one of those people, you didn't have to say much, every time you took a picture, he was doing something different – he was a clown but knew what he was doing, he was easy to get on with.
There's an innocence to it and that's probably due to the fact that in the late 1980s, there was less control by record companies and management. It was just me and him, there was no stylist or hair and make-up and I never worked with an assistant, so it was easier.
A lot of people, when you photograph them, you can feel their concentration levels waning after a few minutes, so its good to shoot quickly and get something. I mainly shot in black and white and I regretted not having shot in more in colour but it goes with the grittiness of that type of music.
There is a timeless quality to it.
David Corio

Salt-N-Pepa, Manhattan, 1986
I got commissioned by a teen magazine to shoot this unknown band and I was living on Avenue B on 8th Street so I said, 'Just come around and ring my bell and we'll take some pictures on the street'. It was a hot summer day in New York, so we just went and walked around Alphabet City, which was a little run down and it was great.
The girls seemed really like best friends, very giggly and having fun. I said: 'Do you want to stop at the deli and get something to drink?' They were laughing and having a good time and this little neighbourhood girl walked by.
It was before social media so people weren't used to posing, there was no such thing as a selfie, fortunately, they were very natural, they would start dancing when a car passed by that was playing music and I'd take a picture.
I love this picture because it's got this feeling of New York back in the day, they've got their gold ropes and the Salt-N-Pepa earrings. After the shoot, they said, 'We have a record coming out, would you like to shoot the cover?' So I ended up doing that one and their second and the famous picture with their eight-ball jackets (below).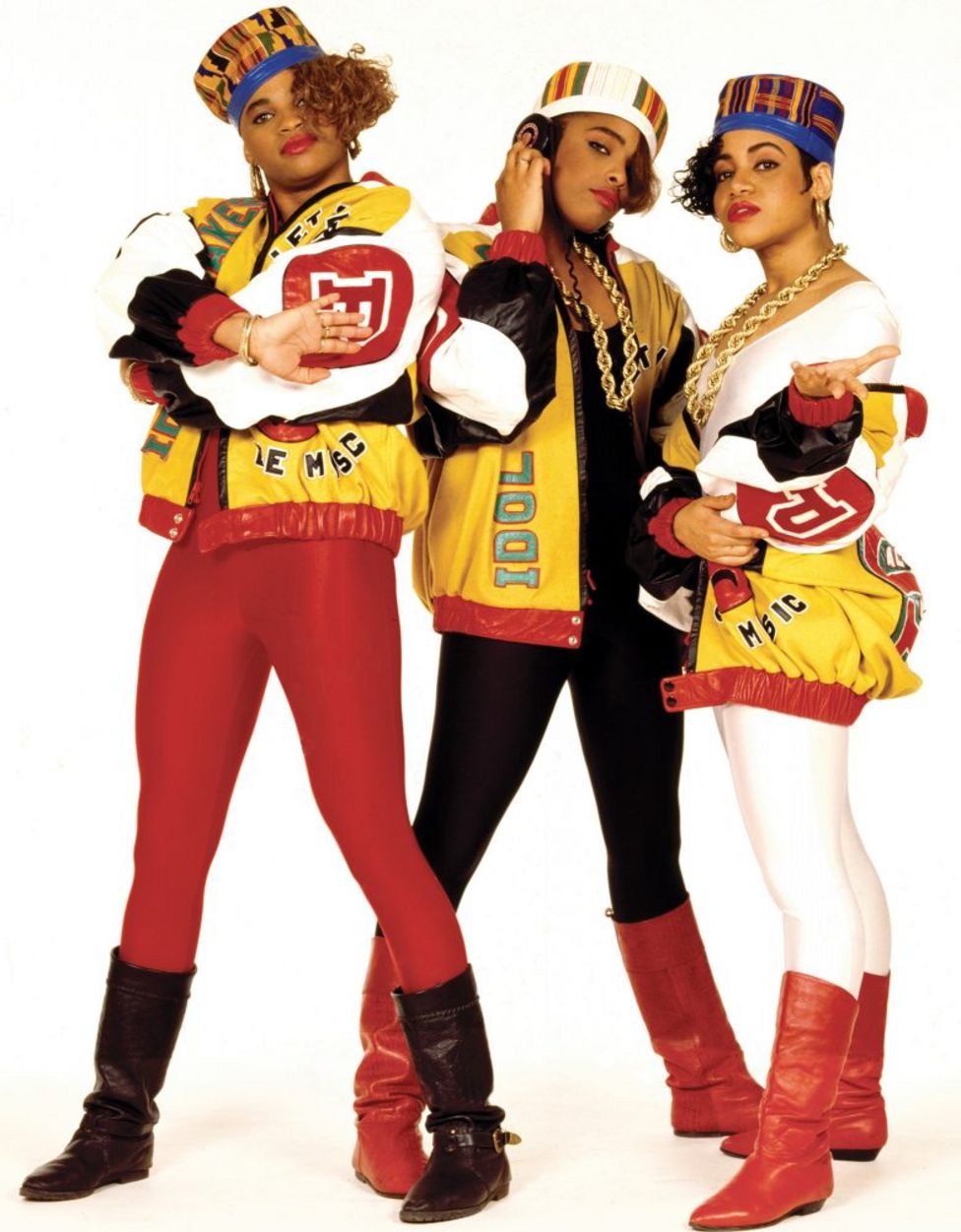 It's amazing because they're still doing really well. These girls changed the game because, before them, it was pretty much all guys rapping and they were the first girls to talk about boys, in that song Let's Talk About Sex and that became really important.
Janette Beckham

Breakdancer from the Rock Steady Crew, The Venue, London, 1982
This was in Victoria, just opposite the railway station, it was an old theatre. I went to loads of shows here and everyone performed at their best. This was like the second hip hop show in the UK, Grandmaster Flash had played here a few months before and this was la whole revue with breakdancers and double dutch skippers, Afrika Bambaataa and Fab Five Freddy did this graffiti piece as the show went on. You were immersed in hip hop culture in one fell swoop and also Janette was there (bottom-right, to left of standing dancer's knee) which I only realised recently.
It was the first time people in England had witnessed breakdancing and some of them were spinning on their backs and heads and, if I remember, this guy spun on his head and almost levitated and was just hanging there. I love the expression on all the people, like no-one has ever seen anything like this. it was a real revelation. When Bambaataa came on stage, there were no musicians, there's a guy with a couple of record decks, it was so different to what people had experienced.
Look at what people are wearing, it was very non-hip hop, woolly jumpers. But that changed pretty quick. It was an awakening for people, me included, that it was about more than guys in leather outfits, rapping away on a mic, there was more to it.

EPMD, Babylon, Long Island, 1988
I was working for a small label called Sleeping Bag, I used to do a lot of covers for them and this was the third EPMD one I'd done. They told me to meet the guys in Long Island somewhere and it turned out to be on the east side, right near the water. We were supposed to meet at noon and we arrived at 11.30. We wanted to use Dead End sign with the water behind. It was in the fall [autumn] and there was less light.
We were waiting for them and waiting for them and they didn't turn up. It was before cell phones and pagers and we were getting really worried. I drove with my assistant to find a phone box and called their manager and he said, 'Oh yeah, I think they're getting the rims on their cars polished up in the Bronx'. That was like a two-hour drive in traffic. Just about half an hour before the sun set, we hear the roar of these motors.
They got out of the car and sat on the hoods and I said, 'What are they wearing?' because I'd never seen this fashion and in way, it sort of looked like ladies' pyjamas. I was like, 'Wow, this is cool but different'. This become an iconic cover in culture, especially due to those gold rims, they're very special apparently for car people.
I maybe shot five rolls of film, it was the days before digital; and the sun went down. We got the shot and they said thanks and left and that was it.
Janette Beckham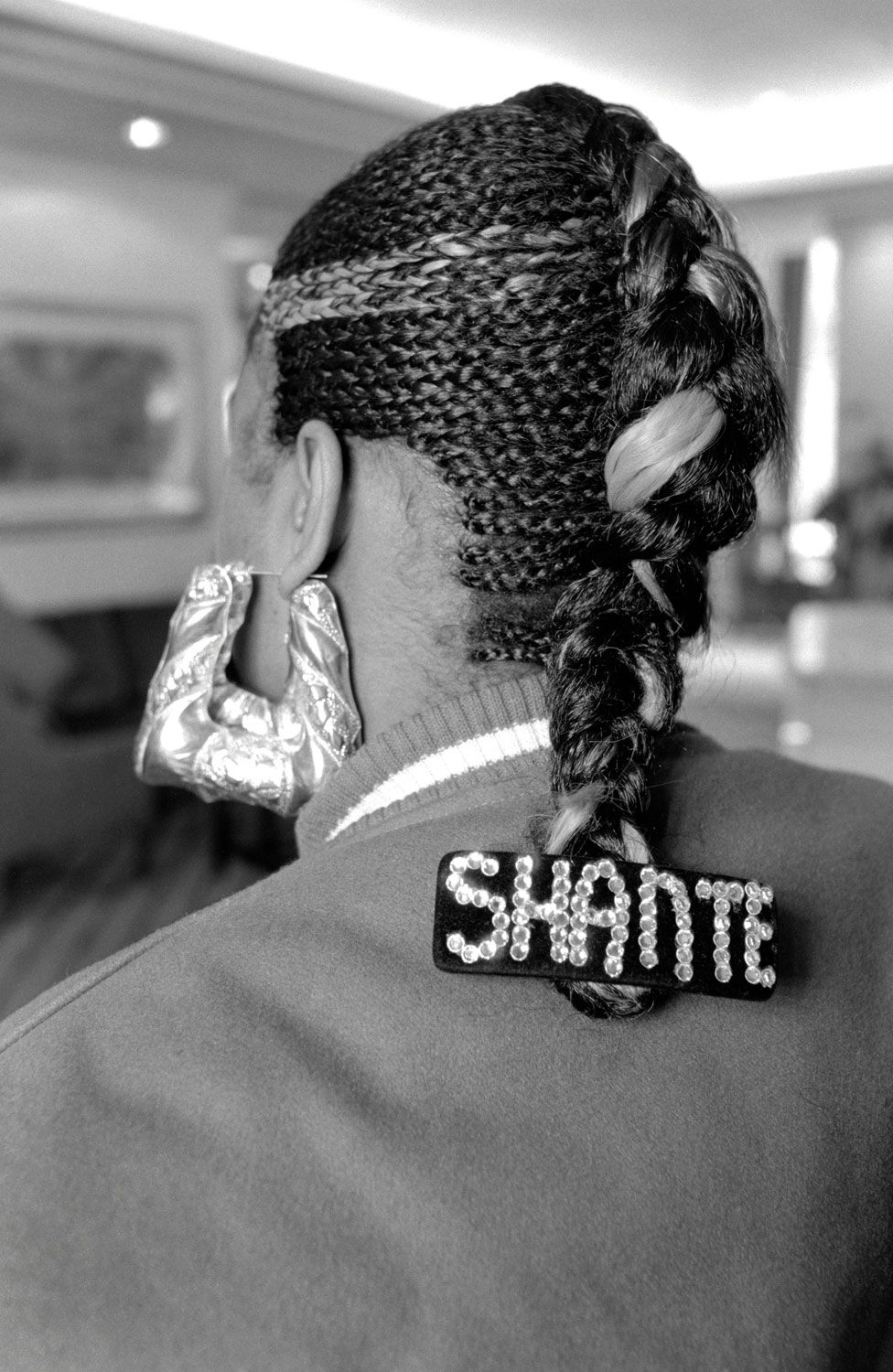 Roxanne Shante, London, 1989
I arranged to meet her in the hotel she was staying in, in central London. She was really cool and professional and stylish but when I met her, she was sat down and she wanted to do the pictures there. I hadn't seen her hair from behind, she seemed really young, I think she was about 18 or 19 but she was really street smart. She had this big badge on her jacket of a little boy and I said something like, 'Oh that's sweet,' and she said, 'That's my son'. She'd had a kid when she was 15.
We finished the shoot and she got up to go and turned about and I was like, 'Wow, I didn't see your hair slide,' and the earrings were double on each ear, like two huge bits of bling and just seeing it summed her up as much as doing one of her face so that was the final frame. Quite often taking pictures, it will be the first one you take or that last one that will be the money shot, I don't know why but that was definitely one of those, sometimes it's just luck.
It's great seeing all of the pictures hanging with other people's because this era between '82 and '93 was this golden age in that there was an innocence and as the decade moved on, it became more business-oriented in way.
It sums up a very important time in music and in style and fashion. Punk had finished and there was a lot of indie pop but not everyone wanted to listen to jangly guitars and depressed guys in raincoats and this was so fresh. (By Kev Geoghegan/ BBC)
David Corio
Beat Positive is open at the Getty Images Gallery until 4 August.