Our NBA experts predict every series and pick their 2017 NBA champion
The NBA regular season is done, and now the playoff march begins. The season started off as pretty much a formality, with most experts penciling the Cavaliers and Warriors into a third straight NBA Finals matchup.
But a lot has changed since November. Kevin Durant got hurt and the Cavs suddenly look like a mediocre team, leaving a lot of room for surprises in this playoff field.
Our experts have analyzed the brackets and made their picks based on a season's worth of evidence, and their brackets are presented below.
Bill Reiter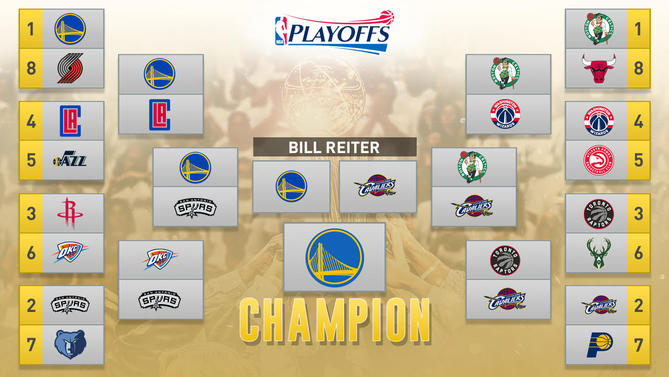 Reiter: The Cavs find a much more daunting road to the NBA Finals than the past two seasons, but get there nonetheless behind more LeBron James heroics. Waiting, again, are the Golden State Warriors with an eye on revenge. This time, there is no 3-1 collapse — just a long, hard slog that Stephen Curry & Co. pull out in another epic Game 7.
Ethan Skolnick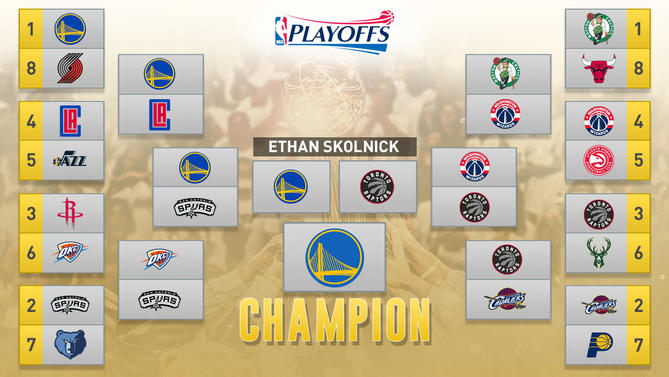 skolnick-bracket.jpg
Skolnick: The safe play is to assume the champion Cavaliers find and flip that elusive switch, and that lights their path to at least the NBA Finals. And it might seem that way in the first round against the limited Pacers. But it says here that their repeat bid will flicker out in the second round, against a Raptors team that can exploit Cleveland's defensive deficiencies, and has been fortified defensively itself. So long as the Warriors survive Kawhi Leonard, they'll meet — and beat — a new Finals foe.
Matt Moore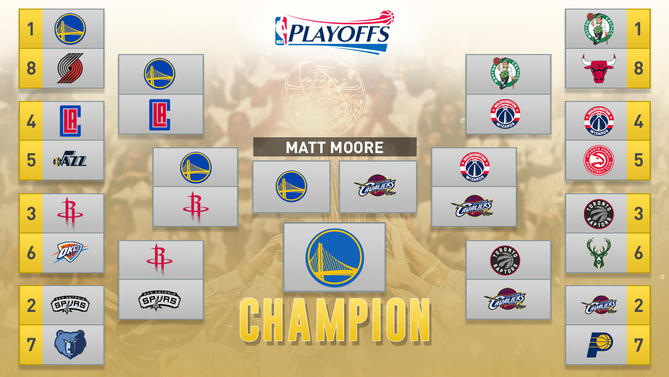 Moore: Someone is getting bit in the first round. I know it. It happens every year, and this year we might see two of them. But I couldn't find it. OKC and Memphis are short on firepower, Milwaukee is short on experience (and the Raptors can't possibly screw up in the first round AGAIN, right?), the Pacers are up against LeBron James, the Bulls are half-man, half-garbage. There's no team you can say "I feel confident they can pull the upset," but I already doubt this first-round bracket very much.
Second round I feel much better about. The Wizards are better built for the playoffs than any of the other contenders, including top-seeded Boston. Big guards who can score taking on small guards is a good matchup, and the Wizards' regular-season defensive numbers don't reflect how good they can be. In the West, there has been something weird behind San Antonio's typical Spurs success, and it's not just me — people around the league have echoed those same feelings on what this team looks like.
If the Spurs make the Western Conference finals no one will be surprised, but I truly think Houston, despite losing 3-1 to the Spurs in the season series, matches up well enough with them to topple them. From there, same old same old, and though last year should teach us not to doubt James, the addition of Kevin Durant is too much.
The Warriors win the Game 5 they feel they should have last year and top off two titles in three years behind the biggest free-agency acquisition since James. Durant and Curry's legacies are secured and everyone kind of shrugs because there's nothing special or exciting about it — it's just what everyone expected.

James Herbert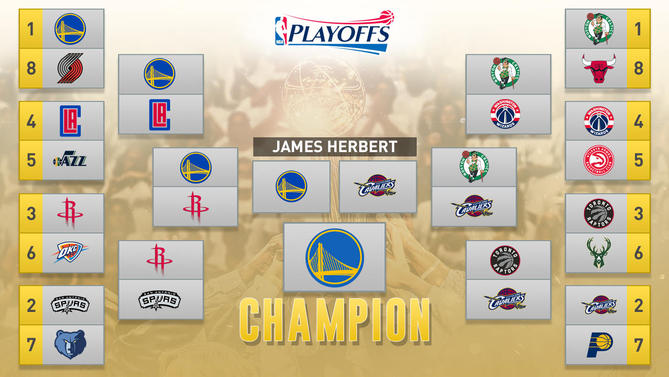 Herbert: I couldn't quite bring myself to pick a team to upset LeBron James' Cavaliers, but I think their road to the game's biggest stage will be much tougher this time. I also question how much they'll have left in the tank if they're lucky enough to meet the Warriors again. This might make for a one-sided NBA Finals, but the earlier rounds should make up for it. Clippers-Jazz, Rockets-Spurs and Celtics-Wizards all have me shrugging my shoulders when it comes to making predictions, which means I'm extremely excited to see what happens.
Jack Maloney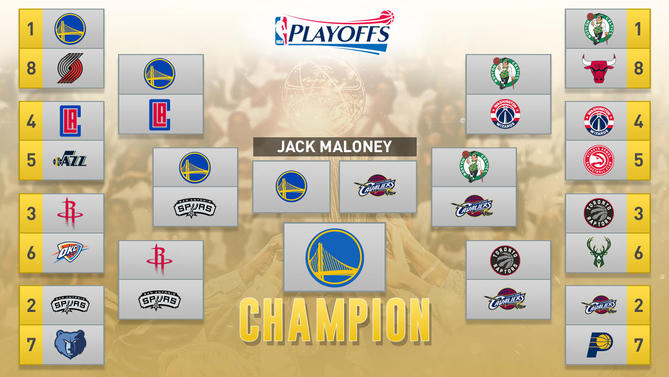 Maloney: Despite their defensive struggles in the second half, and their bizarre collapse to lose the No. 1 seed, I still can't see anyone in the East beating the Cavaliers four times. Likewise in the West with the Warriors, as their talent, especially with Durant healthy, figures to simply overwhelm everyone in their path. Hopefully I'm proven wrong, but I don't expect Warriors-Cavs III to be as compelling as Round 2 was last summer, and I'll take the Warriors over the Cavaliers in five games. (by CBS Sports Staff)