The historic Brown Chapel AME Church in Selma, Alabama on Sunday held a service before the annual march across the Edmund Pettus Bridge to commemorate "Bloody Sunday," the day when white police officers beat black marchers in 1965.
"I think that it's important for Mr. Bloomberg, Mayor Bloomberg, to hear from you, listen to you, to learn from you," Reverend Leodis Strong said when introducing the former mayor.
Mike Bloomberg initially turned down the church's invitation to speak, Reverend Leodis Strong told his congregation.
"I was hurt, I was disappointed," Strong said. "I think it's important that he came, and it shows a willingness on his part to change."
It was the 55th anniversary of "Bloody Sunday," when state troopers viciously attacked black civil rights activists who marched over the Edmund Pettus Bridge in Selma.
"The people of Selma will struggle for the soul of the nation," Bloomberg expressed to Democratic Congregants as a number of them turned their backs towards him.
Not long after being introduced, about 10 congregants at a South Alabama church stood up and turned their backs on Democratic Presidential candidate Mike Bloomberg as he delivered a "Save the Nation" speech on Sunday Morning.
Several images shared to social media on Sunday showed both black and white voters standing with their backs turned to Bloomberg in Selma's Brown Chapel AME Church.
Some people are standing in Brown chapel with their back turned on Bloomberg pic.twitter.com/JmqNvkZvMu

— Sam Levine (@srl) March 1, 2020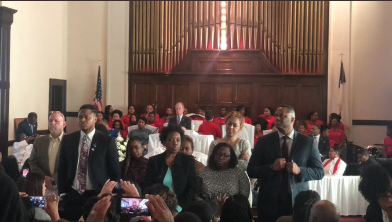 Multiple attendees at #BloodySunday service are turning their backs on @MikeBloomberg as he delivers his remarks and discusses his plans to defend voting rights and address the racial wealth gap. pic.twitter.com/9BzI6n5zSk

— Errin Haines (@emarvelous) March 1, 2020
Some in the church in Selma, where Bloomberg is speaking are standing up with their backs toward him. pic.twitter.com/LUuvJeL2NZ

— Tarini Parti (@tparti) March 1, 2020
"I have tried to listen and I have tried to learn," Bloomberg told the congregation, echoing his November apology for the controversial policing tactic. "I certainly gave people the opportunity to change my mind."
"I think it's just an insult for him to come here. It's the disrespect for the legacy of this place," Lisa Brown, who traveled to Selma from Los Angeles, told Reuters.
Bloomberg's campaign team did not provide any comments concerning the silent democratic protest.