Tennis legend Billie Jean King is standing by Serena Williams, calling what happened at Saturday's U.S. Open a clear "abuse of power."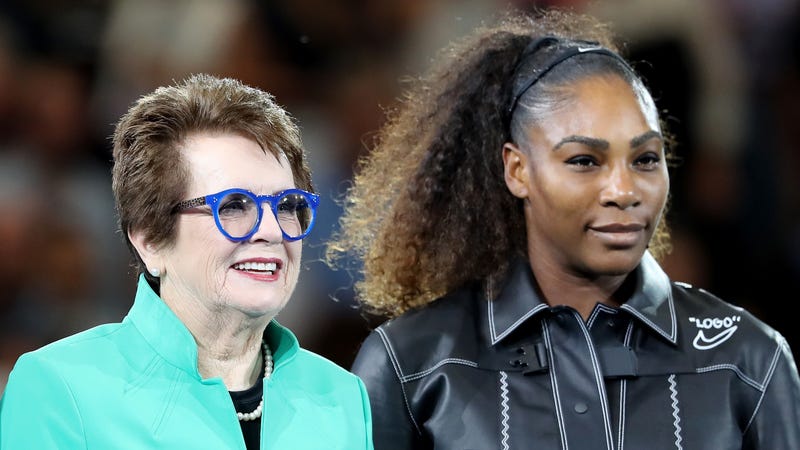 In a Washington Post op-ed, published Sunday, King writes that Williams' confrontation with chair umpire Carlos Ramos was not the "mother of all meltdowns," as The New York Post described it. King saw a woman realizing how unfairly she was being treated in comparison to her male colleagues and then refusing to accept that treatment, on the grounds that it was unjust:
[F]or [Williams], and for many other women who have experienced an abuse of power at their workplaces, there was more at stake.
Did Ramos treat Williams differently than male players have been treated? I think he did. Women are treated differently in most arenas of life. This is especially true for women of color. And what played out on the court yesterday happens far too often. It happens in sports, in the office and in public service. Ultimately, a woman was penalized for standing up for herself. A woman faced down sexism, and the match went on.
King says that she understands why Williams did what she did. "I found myself in similar situations in my career; once, I even walked off the court in protest," writes King, who also defends the legitimacy of Naomi Osaka's first major title win, calling the Haitian-Japanese newcomer an "excellent" player whose victory Saturday needs no "asterisk."
King closes by reflecting on sexist double standards, on the court and elsewhere:
I hope every single girl and woman watching yesterday's match realizes they should always stand up for themselves and for what they believe is right. Nothing will ever change if they don't.
Women are taught to be perfect. We aren't perfect, of course, and so we shouldn't be held to that standard. We have a voice. We have emotions. When we react adversely to a heated professionalsituation, far too often, we're labeled hysterical. That must stop.

Women are taught to be perfect. We aren't perfect, of course, and so we shouldn't be held to that standard. We have a voice. We have emotions. When we react adversely to a heated professional situation, far too often, we're labeled hysterical. That must stop. Tennis is a game, but for Williams and Osaka, it's also their job, their life's work. Yes, Williams was heated during the match because she felt Ramos wasn't just penalizing her, but also attacking her character and professionalism. Her true leadership and character were revealed after the match, in the trophy presentation, when she shifted the spotlight to Osaka. She didn't have to, but she did. I know her — that's who she really is, and she knew it was the right thing to do.

Serena's a champion. She has done and continues to do the hard work. She was right to speak her mind, to put a voice to the injustice, and she was right to know when to call for the controversy to end. – Bfillie Jean King