Back when he was a young radio D.J. in Columbia, S.C., Charlamagne Tha God had a regular feature on his show called "The Ghetto Psychiatrist." Listeners called in to seek advice, which the host would offer in a style that was opinionated and blunt.
"Always, historically, throughout the 'hood, everybody would come to me with their problems," Charlamagne said, sitting inside the Roxy Hotel in TriBeCa one recent afternoon. "Self-help is something that I've always been into. I thought I was going to be a psychiatrist."
As a co-host of Power 105.1's morning show "The Breakfast Club," and as host of the MTV2 weekly talk show "Uncommon Sense Live," Charlamagne does serve as a counselor of sorts. His specialty is setting his guests and listeners straight whether or not they asked for his input. Three and a half years ago, he called Kanye West a "walking contradiction" to his face, and those like Jay Z and a pastor who told children there is no Santa Claus have received the tell-it-like-I-see-it treatment.
Now Charlamagne, who is in his late 30s, has written a book, "Black Privilege: Opportunity Comes to Those Who Create It" (Touchstone), that seeks not to tear down but to lift up. Organized into eight principles for success (Principle 5: "Put the Weed in the Bag!") and sprinkled with pearls of wisdom the author calls "God Jewels" (Example: "Always be wary when someone over 40 calls you 'son' unless it's your own father"), the book reads like a street-smart self-help guide.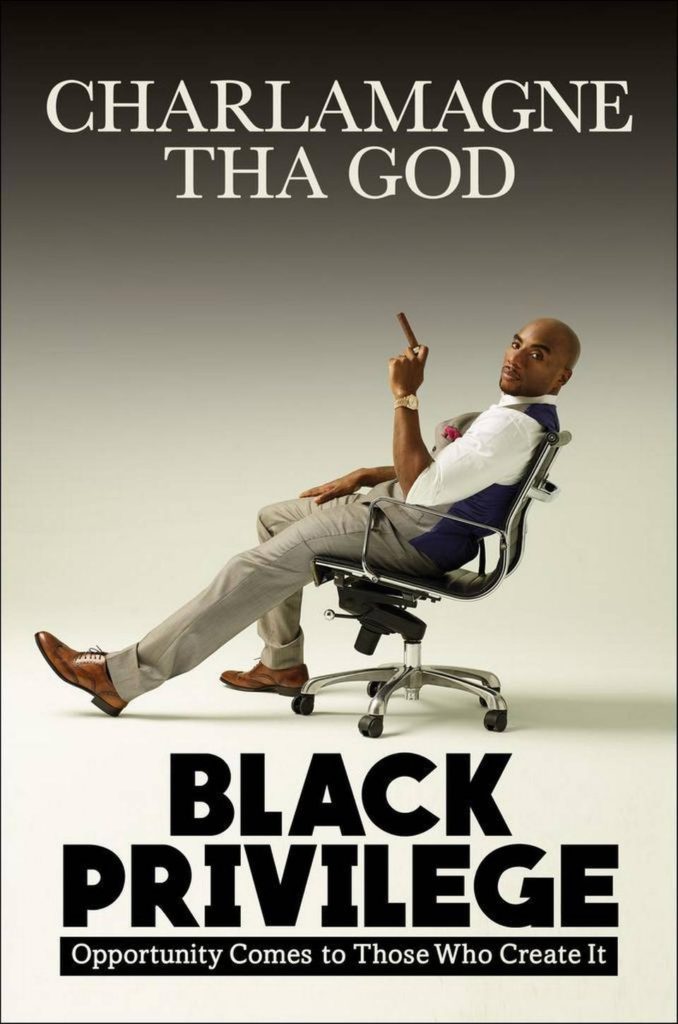 "Contrary to popular belief, all I want to do is empower people," said Charlamagne, whose given name is Lenard Larry McKelvey. "I grew up in a rural area. Books are what helped me transcend my circumstances."
"Black Privilege" derives its lessons from Charlamagne's life, which began in a trailer on a dirt road in Moncks Corner, S.C., and included stints in jail for drug possession and a failed career as a rapper. Even after he found his passion for radio, he was fired four times, for reasons that mostly involved speaking his mind, before ascending to his current position.
If the book has a theme, it is honesty — or as Principle 6 states, "Live Your Truth." Charlamagne opens with an unflattering story about getting beat up as a teenager, criticizes his own looks and "egg-shaped dome," and admits to being overwhelmed when he first did radio in the city.
"If you're not from New York, you never fully get adjusted," Charlamagne said. "I'm worried there will be a terrorist attack and I'll be trapped underground. I'm paranoid like that."
By confessing weaknesses and faults, he writes, no one can use them against you. And being himself and speaking his true views, he maintained, has kept him from blowing up his career like other media personalities.
"Honesty is a foundation, and it's usually a solid foundation," Charlamagne said. "Even if I do get in trouble for what I said, it's something that I can stand on."
Last fall, he was taken to task for a comment he made on Twitter, expressing his desire for "a young black or Hispanic 'WOKE' woman" to create a platform the way Tomi Lahren has for her conservative views. "They went crazy on me," he recalled. "'Charlamagne Tha God is in love with Tomi Lahren' and 'The black man's obsession with white women.' It was bad."
But as Principle 4 states: "There are no losses, only lessons" — in this case, that Twitter is a "poor man's chain letter," Charlamagne said, and not the medium to communicate an argument without it being misconstrued.
With "Black Privilege," Charlamagne is making a bid to be an influential voice in the African-American community like Steve Harvey, whose best-selling books and multimedia career are a model for him. He wants to produce TV shows and films, and become more philanthropic.
"This book is a bolt on my past life," he said. "I don't have to tell those stories anymore. I'm on to the next thing."
Still, he said, he has no plans to stop doing radio or speaking his mind to celebrities who may be living in a bubble.
"Kanye West sends me Yeezys," Charlamagne said, referring to the rapper's signature sneakers. "I don't wear them because I'm not into Yeezys. But that's not going to stop me from saying he's in a sunken place."