Beyond the Forbidden City and the metropolis of Beijing is an underground hip hop scene, ruled over by a guy called Nasty Ray. Sanne Zurné and Kees van Unen meet him
If Chinese hip hop were a person, it would look like Nasty Ray. Dressed in baggy pants, a basketball jersey and blinging chains, this Beijing MC appears to come straight out of the 1990s. Everything is loose, everything oversized. His compact posture makes it all look even baggier than it already is. From underneath his snapback, two friendly eyes peer out into the world.
Nasty Ray will be our guide to the underground hip hop scene of Beijing.
A more than qualified guide, we quickly conclude. Nasty Ray is a big name in the small but dedicated subculture that has been present in Beijing for the last couple of years. One of the few hip hop promoters in China, his monthly party Natural Flavour is famous and well respected among like-minded enthusiasts.
The latest instalment is taking place in Sanlitun, a trendy area in east Beijing renowned for its nightlife. A couple of floors up a large building we enter Migas, the venue for tonight's Natural Flavour. At this early point in the evening, the club is only moderately crowded. A handful of expats sit at the bar drinking beer; the dance floor is still empty. But off to the side, there they are – dressed in hoodies, bumping their heads steadily to tracks from A Tribe Called Quest, Nas, Mos Def and other oldskool names. Meet the underground hip hop scene of Beijing. Dancing is avoided: most of them are way too cool for that.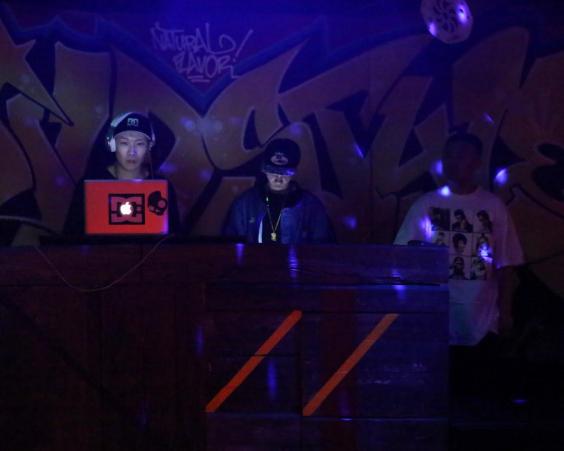 Earlier in the day, Nasty Ray showed us where he lives – "The Ghetto", he calls it. In reality, Tuanjiehu is just a fairly average neighbourhood next to the slightly more prosperous Sanlitun. He lives there with his girlfriend; one half of the room houses two turntables and a sizeable collection of records, the other is stuffed with make-up. Filled with pride, he showed us some of his prized collectors' items: a first pressing of the Black Star album by MCs Talib Kweli and Mos Def; a cassette tape of Notorious BIG's Hypnotize.
But his real hip hop museum is two doors down, in the apartment where he used to live with his mother. She lives there alone now, but Ray's traces are still visible. Very visible. The walls are completely filled with NBA and hip-hop posters and crates of records are stacked throughout the room. Hip hop, everywhere you look. His mother seemed unfazed by it as she walked through a kitchen decorated with Eminem posters.
"I literally took every hip hop poster I could find out of magazines, and put them on the walls until there was no space left," Ray told us. "Even the toilet is full." And his mother? She's just happy that he got himself an apartment down the block instead of moving to the other side of the city.
Back to the party. It is somewhere around midnight now and about 10 people are dancing. A minority, yes, but they are fully committed, busting their moves like it's their last day on earth. When Nasty Ray started to organise his parties back in 2012, he had trouble finding an audience. The Chinese seemed to love the fashion and style that comes with the genre, but the concept of a hip hop party was difficult for people to grasp. They expected entertainment, a show, something like a rap battle. And the expectation hasn't died says Ray. "At my parties, people come to me and ask when the show starts. I tell them it has already started, but they keep asking."
It's perhaps unsurprising that the underground hip hop scene is small in Beijing. For years, rap music was forbidden in China. The small group that today knows and appreciates rap veterans such as De La Soul and A Tribe Called Quest were not aware of their existence in the 1990s, when hip hop dominated the charts worldwide.
People here came to hip hop late in the game, so getting acquainted with Beijing's rap scene is a bit like travelling through time. This is a world where Dr Dre still calls the shots and where oversized windbreakers are still a crucial part of the dress code. "We discovered hip hop too late," says Ray. "We were not there when the whole world was."
But there are signs that the scene is slowly moving forward. CCTV – China's major state broadcaster – now has its own music station, and a rap song gets played from time to time. And then there's Zhong.tv, an online channel that specialises in Chinese rap. "WE ARE CHINESE HIPHOP" reads its header on YouTube, where the channel has more than 26,000 followers (and counting).
Budding MCs who want to practise their skills can do so every Tuesday at an open-mic evening at School Bar – a small venue in Dongcheng, central Beijing, where we'd headed earlier in the week on our whirlwind hip hop tour. The crowd was made up of the same people we would see bumping their heads in Migas at the Natural Flavour night.
Hip hop remains the most scrutinised genre in China, carefully watched by a government which bans anything that might harm its reputation. One after another, emerging rappers quit before their big breakthrough. Tracks are censored and shows are cancelled on a regular basis. The most recent victim is the hip hop trio Yinsaner: banned due to "obscenity, violence or crime" and said to have "harmed social morality".
But the problematic relationship between China and hip-hop might also have more cultural roots. Rock is popular and sweet pop music seems to appeal to every person in China, all 1.387 billion of them. Hip hop doesn't. As Ray identifies, "This unpopularity is caused by the lack of basic knowledge of the genre. Due to the censorship of Western media in the 1990s, we only started to explore hip hop just now.
"You could say we run 10 years behind, which makes it difficult for us to understand contemporary hip hop. So hip hop just doesn't do the trick for the Chinese. It is small, and it will probably stay like that."
It may be small, but it is definitely present. At Fruityshop in the Dongsi area, for example, where Nasty Ray bought his first record: a pirate copy of a Jay-Z album. Fruityshop sells legal records nowadays, but the small store is still representative of the problematic status of hip hop in Beijing. Hidden away in a back street, it is a place you have to know about already in order to find it. Its modest size doesn't do it justice, considering that it's the headquarters of hip hop in this mega-city.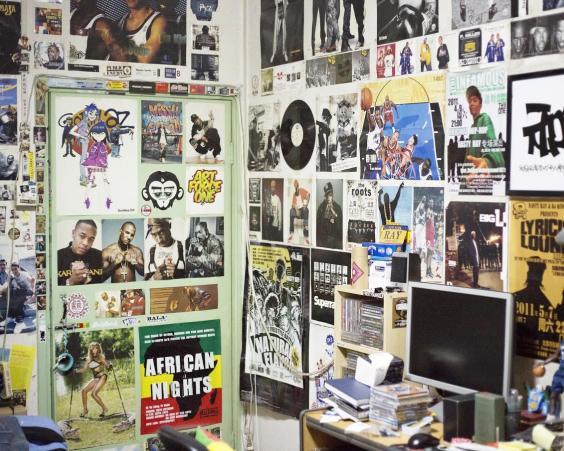 Modest or not, Nasty Ray got his hip hop education there. Today he continues his journey of discovery via the internet. With the help of a VPN (censorship blocker), he is able to gain access to online platforms outside of China. He even puts up his own videos on YouTube and has contact with international rappers via Instagram. Members of the Wu-Tang Clan have already attended Natural Flavour; with barely contained pride, Ray shows us a photograph of him standing next to Fat Joe.
There is an international turnout at Migas tonight. A young girl from New York is taking over the dancefloor. All night long, people look for Nasty Ray to get a hip hop handshake. The underground hip hop scene in Beijing might be a small world, but it is his world. And the only way is up. (Courtesy of The Independent)